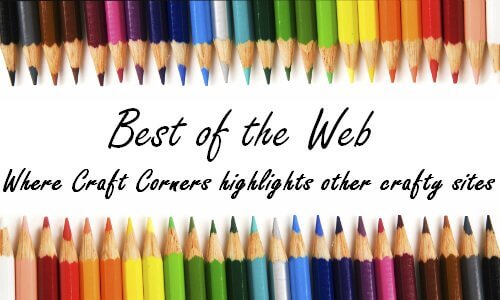 We've been so lucky to have been immersed in crafting inspiration these last few weeks and now we're back with even more exquisite crafting designs! From stuffed toys to yarn projects and back to more paper crafting ideas, this week's features are nothing short of the word spectacular. Throw in some inspiration and some crafty know-hows and voila- you've got some crafty items for your home and for your kids. But enough explanation and on to my favorite part…
Hi, I'm Carol Birkeland-Green (Bears of Bath) and I am a Teddy Bear Artist working in the UK.   I have been creating bears since 2006. My Blog allows me to share my new creations with everyone, giving them a sneak preview of what bears will soon be available for adoption. I am proud to say that I have just won A British Bear Artist Award, for my miniature Mohair and Faux Fur Bear, Popcorn in the Miniature Undressed section. Later this year, I will be exhibiting at my first Teddy Bear Show in September at Hugglets in London, which is such exciting news. My bears have appeared in many Teddy Bear Magazines and are sold all over the world. I hope you enjoy visiting my Blog and smile at the collection of bears which inhabit it. – Carol
My blog is exactly what its name says: a toast to altered art.  And the sky is the limit as far as I am concerned.  I post scrapbook layouts, promos for the technique classes I teach at the LSS and for the classes I teach at paper arts weekend retreats.  I often include how-to tutorials on my blog, sharing what works for me and what does not.  There are product reviews and projects I have 'under construction".  I specialize in vintage, shabby chic and all things old and beloved. – Jules
Jenni Bowlin Studio Inspiration Blog
We happily call our site The Inspiration Blog because inspiration is what we strive to provide to our customers. Jenni Bowlin is the founder and creative force behind our work, and the site is centered around her paper crafting lines designed with a vintage twist.  This lovingly aged aspect can also be found in our kit club, JBS Mercantile, as well as our bimonthly online flea market. Swing by The Inspiration Blog for a variety of paper crafting, altered art, cardmaking, and home decor ideas. You're sure to be inspired! – Dori
My blog, A Creative Need,  began with a need to express my passion for arts and crafts in a new way! I have been a paper crafter for many years, and have enjoyed many styles of cardmaking using both rubber and digtial stamps. I love sharing what I create, often including tutorials for paper craft projects and cards, on my blog and at Custom Crops as one of their designers.

On my blog you will notice that I recently merged my love of drawing with my need for images, by digitizing my own artwork. My style is most often influenced by everyday moments, with an occasional flare for whimsy!  You can see my digital stamp images at acreativeneed.etsy.com and at Squigglefly. I am happy to be on this creative journey. I continue to learn so much from other online bloggers, and I so enjoy sharing my projects, tutorials and images with this crafting community! Thank you for inviting me to share here at Craft Corners! – Deena.
Hi! I'm Alessa and I blog at Farbenfreude, which is German for "joyfully colored". In real life I'm a medstudent, so sewing, knitting and crafting are my creative outlets. The thing I love most about sewing my own garments – mostly dresses, to be honest – is that aside from the creativity of matching patterns and fabric, and the manual labor that is sewing, in the end I actually get to wear colorful, polka-dotted, cute dresses that put a smile on my face all day. – Alessa
On the 5th of every month here at the Counterfeit Kit Challenge Blog, we will choose a kit from a popular kit club (for inspiration) and challenge you to create a "counterfeit kit", using just the supplies you already own. In addition to our "counterfeit" challenge, we will also include a few other challenges (to actually USE these kits), a few tutorials (for creating your own embellishments), and a blog hop (toward the end of the month for everyone to SHARE their "counterfeit kits" and their creations)! – Bethany
There's a ton of wonderful ideas to do with kids that are fun, easy, and enjoyable for grown-ups, too! Unfinished wood crafts
 are ideal for home decor projects, holiday ornaments and decorations, or handmade gifts that will add charm to any room. The possibilities are endless and the end results are unbelievable. We hope you've found inspiration with each of these amazing crafters. Till next week, happy crafting!