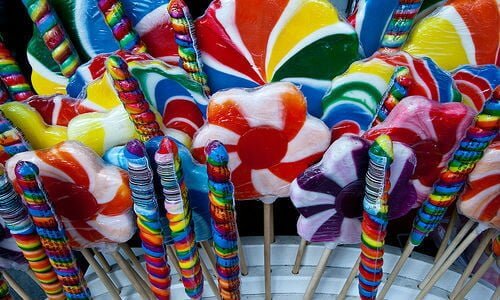 Since the early 20th century, lollipops have long been a favorite of the candy industry. Synonymous with good times and happiness, lollipops are perfect for rewarding children or adults. Whether they are added to small craft gift bags or awarded after a tough doctor's visit, you would be hard pressed to find someone on this planet that doesn't enjoy an occasion lollipop. But how are they made? Here a quick how to guide to get you started on making your very own crafty lollipops.
Ingredients:
–          Lollipop sticks
–          Food coloring
–           Aluminum foil (or custom molds)
–          ½ tsp. of desired flavored oil
–          ¼ cup honey
–          ¼ cup light corn syrup
–          1 cup sugar
–          ½ cup water
How to prepare:
1. Over high heat, bring ½ cup water, ¼ cup honey, and ¼ cup light corn syrup to boil. Must reach 295 degrees.
2. Add flavored oil and food coloring and test flavor by dipping into mixture and running over cool water. Add more flavor to taste.
3. While mixture is still hot, pour it into pre-fabricated foil molds and insert lollipop sticks.
4. Let it sit for at least 20 minutes and enjoy!
The molding process is where you can really get crafty with your DIY lollipops, creating all sorts of shapes and designs.