Easy ways to create your own ankle wrap shoes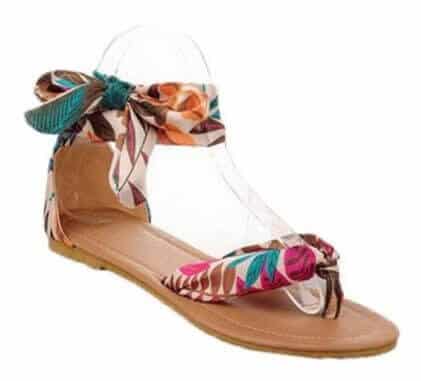 It is the perfect weather to slip into your flip flops or your favorite sandals to wear with your summer dress. In order to give your entire outfit a notch up you can add ankle wrap around your shoes which will add extra flair and glamour. This is an easy to do project which require little time and effort. Here is a couple of ways you can make your very own ankle wrap shoes.
For all of the below ways, you will need a pair of heeled shoes that either has a strap or back around the ankle. You will also need ribbons or any light weight fabric whose color is very close to the color of your heels.
Flip flops makeover
You will be surprised to see your regular flip flops looking chic after adding the ankle wrap around it. You will need colorful and patterned chiffon that is cut in 1.5-2 inches wide. The length of the chiffon depends on how big and grand you want the bow to be at the end. Now comes the easy part where you just cover the straps of your flip flop entirely without missing any spot. Make sure to leave enough length on both the ends to help you wrap it around your ankle and tie a neat bow.
Add glamour to your heels
Another simple way to dress up your heels is by creating ankle wrap shoes for your heels. Take a light fabric that is at least 3 feet long and that also matches your shoe color. After you slip into your shoes start wrapping the fabric around your foot, starting from the bottom of your foot. Criss-cross it around your foot to give it a unique style and when the fabric reaches at its ends tie a pretty bow on the sides of the ankle. This is a quick and easy way to decorate your shoes without ruining them with hot glue or pinning holes in them. You can also use ribbon in a color different from your shoes to create your very own color block ribbon ankle wrap shoes
.
Pair these shoes with your favorite summer dress and wrap around watch
to look fashionable and trendy.