3 crafty things to do with an empty glass fish bowl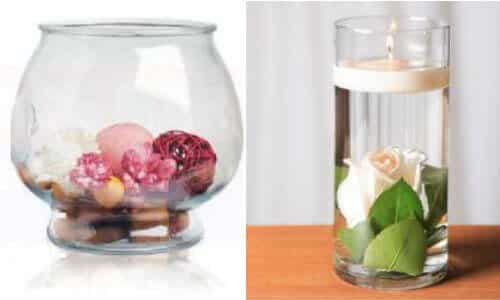 If you ever owned a fish before and have an empty glass fish bowl lying around at home and you do not want to replace your fish then you can use it to let your creative juices flow through a craft project. An empty glass fish bowl
is like an empty canvas. You can use it to make many unique decorative pieces in a few easy steps. It is also a great project to do with your little ones. Here are a few ideas that you can use to create decorative pieces from an empty glass fish bowl.
Sand art
You can create a sand art by using different colored sand. Colored sand can either be bought new, or made at home or bought from any thrift store. You can also use sequin or glitter for a couple of layers to give it a sparkly look. You can also add small pebbles, beads as a layer to give the sand art a distinctive look. This makes a wonderful decorative piece in your kid's room.
Centerpiece
Another idea to decorate your fish bowl is to use it as center piece. All you need to do is add colorful pebbles, sea glass, shells and sand to the bottom of the bowl. Then fill the bowl with water. You can use different flowers after clipping their stem and make them float in the water. Another option is to place floating candles in it. Light the candles in the bowl and place it as a fantastic centerpiece.
Terrarium
If you have a creative streak in you then you can convert your fish bowl into a terrarium. You can grow small plants in a controlled environment and decorate it further with small plastic animals or pebbles. You can place it on the corner etagere shelves
and notice how it becomes a conversation starter.