Modern Cleopatra Costume Accessories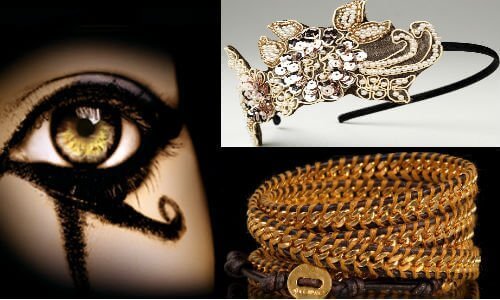 If you're planning to attend a costume party as Cleopatra, but you want to add some flair of your own to her typical outfit here are some accessory ideas that will take your plain white dress to one fit for a queen!
Headbands
While a crown does add a regal touch to the costume, how many times will you get to wear a crown afterward? And updated version of crowns that still serve as ornately decorated headpieces would be sequin headbands
. Getting one with gold sequins and intricate beading would be a great and convincing addition to your costume – and best of all you can still use it for everyday wear!
Gold tone bracelets
There are so many types of bracelets out there, but gold tone ones would match Cleopatra's look the best. Some great ones include any of the following:
These are relatively affordable as they are fashion jewelry and not real gold. You probably already have some pieces you could use, which makes sprucing up your costume even easier!
Eye glitter
While many use black eyeliner to thickly line their eyes as Cleopatra (see above), you can add gold glitter eyeliner to outline the design you made, and add some dots of glitter leading to your temples. Have fun with it since there are no rules!
What are some creative ways you re-invented your Cleopatra costume?