Light up your St. Patrick's day with shamrock lights!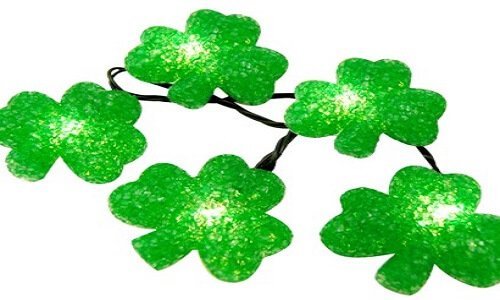 The St. Patrick's Day is much more than a holiday. Named after Saint Patrick, this is an official feast day that involves amazing public parades. People await the St. Patrick's Day to get into its spirit, to wear green attire, to enjoy food heartily and to do a lot of other fun things. One of the best things you can do on the St. Patrick's Day is decorating your home with green lights. Here are some steps on how to light up your place on this day with shamrock lights and the right colors.
1. Use white color to reflect the other colors
Green and orange are two colors that are suitable for the St. Patrick's Day. It is best to leave these colors for the lights. So, use white table cloths, white chair covers, white candles and clear dinnerware to decorate your dining table. If you want to add a little color to the table then decorate it with green satin napkins. White is the color of light! It is also an emblem of the divine. It white reflects all the colors to give your home a pleasant look on the St. Patrick's Day.
2. Decorate the home with white flowers and a green wreath
Pick a green wreath and decorate it with white flowers or lights. You can also take a white wreath and decorate it with green shamrock lights. Hang this wreath on your home's entrance and decorate the interior with white flowers. You can use real or fake flowers. Take an orange vase and put some white flowers in it. Place this vase in the center of your dining table or on your coffee table.
3. Decorate the home with shamrock lights
Use various strings of green shamrock lights to decorate the home's entryway. This will help you create a festive atmosphere in the home. Go for strings having 10 bulbs. Now, connect various strings, make a longer string and decorate the patio, the bar area or the garden. You can pick the 8ct LED sparkle shamrock light string from Target. Ideal for indoor and outdoor, this is a USB powered string that helps you to accentuate seasonal décor and to decorate for a party. This string has vibrant green lights that fit the bill.
4. Hang shamrock lights on the walls
Pick some shamrock light displays that can be hung on a wall and a tree. The Home Depot offers pretty and affordable shamrock light displays that are rust-resistant. These displays come with durable aluminum frames. These lights are a must if you are having a party or some kids over on the St. Patrick's Day. These lights will make your party a big hit and will later be used as night lights.