Plan a Party with a Peacock Motif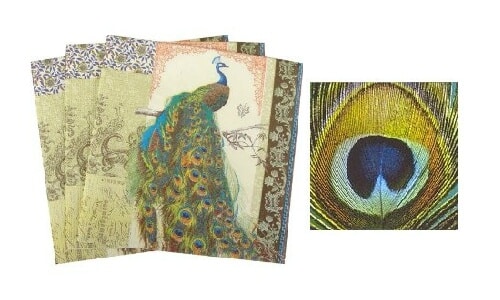 While party planning as a grown-up isn't as easy as running to the party supply store and buying Dora the Explorer-themed tableware, you can still have fun using a more mature motif as inspiration for your invitations, table setup, and decorations. If you're not quite sure what theme to use, we'll provide you with some ideas for planning a party with a peacock motif inspired by this season's trendy peacock feather accessories. Here are some ideas you can try for just about any occasion:
For your table setting
Pick out a blue table cloth and layer this under a green tablecloth. Add brown paper plates, one 16 oz green plastic cup for each guest, teal place mats, and peacock napkins to complete the look.
To entertain your guests: Make peacock feather headbands
Whether you'll be hosting a birthday party, tea party, or just enjoying an excuse to get the girls together, entertaining your guests with a fun DIY activity will make your party more memorable. Here is what you'll need to make a peacock feather headband:
thin plastic headband
green and blue satin ribbon
scissors
glue gun
faux peacock feathers
Q-tips
What to do:
Pick out one or two peacock feathers and determine where you would like to place them on your headband.
Use the glue gun to apply glue to the feather's tail; then press this end to the headband for a few seconds, holding it in place with a Q-tip.
Starting at one end, use the glue gun to apply dots of glue to the headband.
Carefully wrap the blue or green satin ribbon around the headband. Continue adding dots of glue to the headband as you wrap the ribbon around it.
When you have covered the tail of the feather, push the ribbon behind the feather; then continue wrapping the ribbon around the rest of the headband.
Trim the ribbon when you reach the end of the headband.
What are some other ways to incorporate a peacock motif into a party? If you have any ideas, share them with us!