Add flair to a garment rolling rack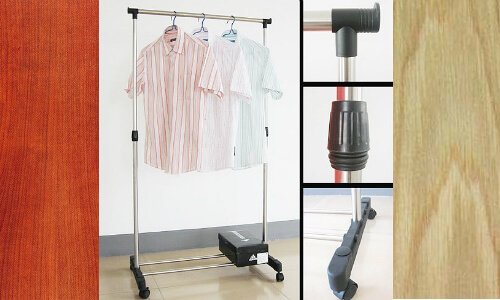 Who doesn't love a good garment rolling rack
? They are a convenient, inexpensive storage solution for your clothes and shoes when you just don't have enough room in your closet or dresser. While they are practical, however, they don't do very much for your room's decor. If you are using a rolling garment rack in your bedroom, here are some ideas to spruce it up and add some flair to your room at the same time:
For an imitation wooden garment rack
Grab some wood contact paper
, scissors, and some measuring tape and transform your metal garment rack into a convincing imitation of a wooden garment rack. Just stick the contact paper directly onto the metal. This is an easy project that can be done in just minutes. Look for wood contact paper in a darker shade for a sleek, modern look, or try a lighter shade if you like having a bright, airy room.
For a colorful garment rack
Spray paint your garment rack for a fun pop of color in your room. Pick a spray paint for metal in a color of your choice and use it to transform your garment rack. If you would like a more subtle alternative to a vibrant color, you can also try using a metallic paint instead.