Make your yard Halloween ready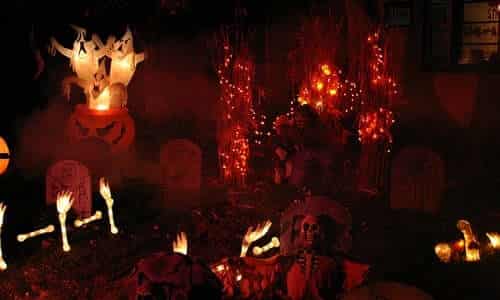 If you really want to make this Halloween a memorable one then don't forget to make your house the creepiest one. Here are some items which will help you make your yard ready for this Halloween.
Black and yellow light bulbs
A zombie like dummy
Cardboards
Black sketch pen
Hanging decorations
A plastic skeleton
A wooden chair
Fake cobwebs
CDs with scary sounds
You can follow the following steps to create the spookiest Halloween yard of your block. These steps will help you set up a yard which will provide spooky fun to kids as well as their parents.
Use black and yellow light bulbs to highlight the boundary of your yard and various other things set up in the backyard. These lights will together create an eerie effect. Also, you may replace your regular bulbs with black bulbs.
You can now make a human or zombie like dummy with the help of some old clothes. You can make a dummy using a pair of jeans, sweatshirts, gloves and a mask. These items will make your dummy look like a zombie. You can place this dummy on a chair in different positions.
You can install fake cobwebs in different areas of your yard.
Using a hanging Halloween decoration is a great idea. You can pick a hanging Pumpkin scarecrow from Costumes For Halloween and a hanging bag of rats with sound by Grandin Road.
You can place a plastic skeleton right in the middle of the yard. This skeleton will really give the desired look to your yard. Along with this, you can use outdoor witch décorto make your yard spooky. You can purchase a standing witch with light up lantern or a jointed witch cutout from BuyCostumes.
You can make fake gravestones from cardboards. Simply cut a cardboard in the shape of a gravestone and write a name on it using a black sketch pen.
Play scary sounds using a CD.  Such CDs are easily available online as well as in supermarkets. They add to the mood and give the final touch to your scary Halloween yard.